Days before UK Prime Minister Boris Johnson and 50 other politicians in the Conservative Party stepped down, they'd gathered to pray.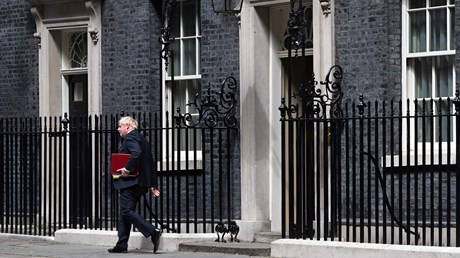 On July 5, more than 700 MPs, members of the House of Lords, and church leaders met to pray at the National Parliamentary Prayer Breakfast in Westminster, England.
The Reverend Les Isaac spoke to the assembled group: "At the center of our lives is Jesus, and a desire to be like him and to fulfill his purpose here on earth. Many men and women are quietly demonstrating service, humbly and compassionately, for the common good of the community, of society, of their city and their nation."
At the front table, directly beneath the lectern, was an empty chair. Boris Johnson, the UK's prime minister, had joined the breakfast but left after the opening song. News had broken that morning of a former senior official contradicting Johnson's previous denial about whether he knew about allegations of inappropriate behavior from a government minister.
That evening, two of the most senior ministers in the government resigned—Sajid Javid, secretary of state for health, and minutes later Rishi Sunak, chancellor of the exchequer. And within 48 hours, Boris Johnson announced that he would be stepping down as leader of the Conservative Party and therefore also as prime minister.
My colleague sat at a table with Sajid Javid at that breakfast, who stayed throughout. In a statement to the House of Commons on Wednesday, Javid opened by saying, "Yesterday, we began our day together. You, I, my right honorable friend the prime minister, and members from right across this house—when we broke bread together at the parliamentary prayer breakfast."
"And we listened, all of us, to the words of Reverend Les Isaac, who spoke about the fact that responsibility comes with leadership. The responsibility to serve …