One in five Indian Americans is now Christian. But they remain divided by language, doctrine, and generation.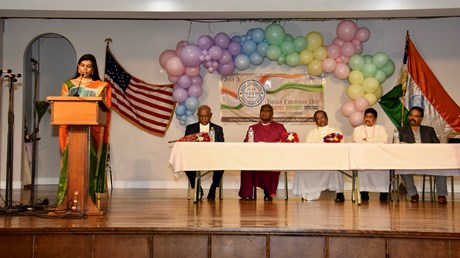 July 3 has long been observed as Saint Thomas Day, commemorating the death of the apostle considered by many to be the patron saint of India.
Now it is also celebrated as Indian Christian Day (Yeshu Bhakti Divas), an annual opportunity for Jesus followers of Asian Indian origin to preserve their distinctive identity and their global presence by uniting across their many languages, denominations, regions, customs, and creeds.
This month, ICD celebrations were carried out in cities across India, including New Delhi, Mumbai, Chennai, and Bengaluru, as well as Indian diaspora locations around the world, including New York, Philadelphia, Washington, Dallas, San Francisco, London, Durban, and Singapore. This Saturday (July 16), Indian Christians in the Chicago region will gather for an evening of ethnic worship and prayer at Wheaton College, led by Indian worship leader Vijay Benedict from Mumbai.
Last year, the grassroots organizers chose the martyrdom of Thomas, one of the 12 disciples of Jesus, to celebrate the ancient heritage and rich legacy of Christianity in India because the ancient Syrian Christian community of India traces its origin to the apostle. And it's not just Catholics that revere Thomas. So does my own reformed evangelical denomination, the Mar Thoma Syrian Church.
According to reliable traditions and well-known Christian historians, Thomas came to the Malabar Coast in Kerala in A.D. 52 and was martyred near Chennai in Tamil Nadu in A.D. 72. Thus, this month marks the 1,950th anniversary of his martyrdom in southern India.
Followers of Jesus Christ have lived in the Indian subcontinent for nearly 2,000 years. They have lived in peace and harmony with their diverse religious neighbors and have played a significant …