Christian group works with conservationists in Chad to help antelope on the brink of extinction.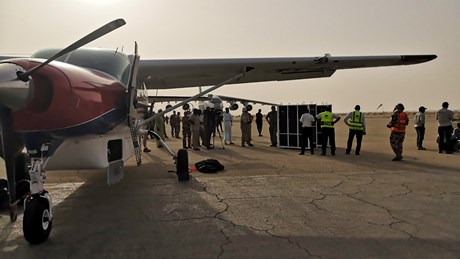 There are only about 100 dama gazelles left alive in the wild. One of the critically endangered animals is named Becki, after Mission Aviation Fellowship (MAF) pilot Becki Dillingham, who is helping to save the strikingly beautiful creatures with long legs and short curled horns from extinction.
Becki the gazelle was flown across a vast and mostly roadless expanse of desert in a Cessna 182, with her horns sheathed in rubber tubing to keep her from damaging anything during the flight. She was delivered to Ouadi Rimé-Ouadi Achim Game Reserve, a protected grassland roughly the size of Scotland, where she will can thrive and reproduce.
Becki the missionary pilot said she didn't know she would be doing jobs like this when she arrived in Chad with her husband and two children in 2017. But the UK-trained physicist who had her first flying lesson at age nine nevertheless sees transporting endangered animals as a core part of her calling as a Christian missionary pilot.
"We have what are called five marks of mission, which are pointers as to where we should be going with all of the work that we do," Dillingham told CT from the MAF base in the Chadian capital N'Djamena. "One of those is creation care—looking after the environment and wildlife."
Dama gazelles certainly need care. Seen in Africa as symbols of elegance, they once lived in abundant numbers across the Sahel, the arid grasslands that fringe the southern border of the Sahara Desert from the Atlantic Ocean to the Red Sea.
But hunting, regional wars, and habitat loss have driven this antelope species dangerously close to extinction. They now live in only four isolated pockets in Niger and Chad. And those pockets face new dangers …