Christians have served well as our society fell apart amid economic crisis. But we still have work to do.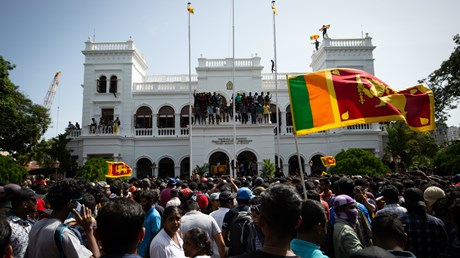 Chaotic scenes unfolded before an incredulous world last weekend in an Indian Ocean island the size of West Virginia yet with a population ten times larger. Since July 9, global media outlets have been running lead stories on the dramatic social ferment in Sri Lanka.
A massive citizen mobilization pushed President Gotabaya Rajapaksa, the most powerful Sri Lankan leader since the days of the country's ancient kings, to unceremoniously leave by a back door to escape the wrath of hundreds of thousands of protesters that came calling at his presidential palace this past Saturday. He fled Wednesday out to deep sea aboard a naval vessel, next to the Maldives on board a military jet, then to Singapore on a commercial airline. From there he sent his belated resignation Thursday, which enabled some closure so that the nation could look to rebuild from here.
Lonely Planet listed this middle-income country and tropical tourist hotspot as the world's best place to visit in 2019. Later that year, Rajapaksa became president by a landslide. He used his military background to great effect to coerce the masses haunted by memories still fresh of the horrific Easter attacks of April 2019. In less than three years, though, he succeeded in presiding over a catastrophic economic collapse that defies belief.
Experts call it a man-made humanitarian disaster caused by a deadly cocktail of ego, corruption, and reckless government policies in the face of the pandemic. By January, Sri Lanka ran out of foreign reserves and became incapable of sustaining essential imports or servicing its international debt obligations. By April, the Central Bank officially announced that the second-strongest Asian economy of 1948 was effectively bankrupt.
By …