In the Book of Samuel, three key voices say he's the guilty one, not her.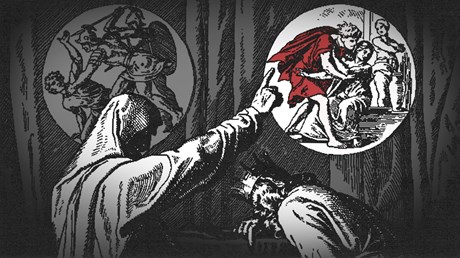 The story of David and Bathsheba has a lot of gaps. It's a brilliantly told narrative that requires us to draw conclusions based on what we already know. The downside to this sophisticated mode of storytelling is that readers will make unjustified assumptions to fill in the gaps.
As Sara Koenig notes in Bathsheba Survives, the history of this passage's interpretation makes a fascinating case study of how each generation thinks about sexuality.
Today is no exception.
In the age of #metoo and #churchtoo, the conversation is trending again on Twitter. (As far as I can tell, #sbctoo sparked this latest round.) Once again, various personalities are arguing that David committed adultery, not rape, or vice versa.
Those arguing that David committed adultery often try to pin blame on Bathsheba for bathing in public, thereby seducing David, while those arguing that David raped her point to the uneven power dynamics between them.
But here's the problem: We think of "adultery" as consensual by definition, while the Bible defines it as the responsibility of the male head of the household to keep his hands off his neighbor's wife (Ex. 20:14).
That doesn't mean a woman can't sin sexually. However, the Ten Commandments are addressed to men by default. They were called to restrain their strength for the sake of community.
It's hard to think of another Old Testament story that fits the bill more precisely. Bathsheba is literally David's neighbor's wife, which means she's totally off limits to him.
She's also off limits because of David's warfare practices.
We learn in 1 Samuel 21:4–5 that he prohibited sexual relations during battles or …