Gathering for the first time since the pandemic, the interdenominational group discussed the importance of global churches finding their own rhythms.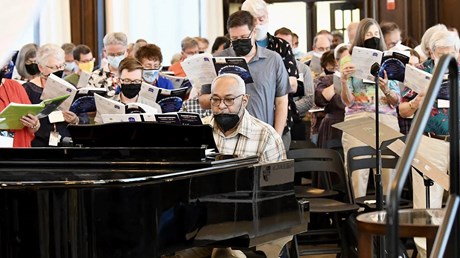 Rahel Daulay, a Methodist who had traveled from Indonesia, was explaining the proper way to dance while singing a hymn she had brought from Southeast Asia—bending knees slightly "to humble yourself" and turning toward one's neighbors, palms together at the chest. Then turn forward, lift up the arms and hold the hands upward.
For the 300-some members of the Hymn Society in the US and Canada, who hadn't met in person for three years, it was a liberation.
"Let us come and worship our creator," they sang as they swayed and danced at Catholic University's Edward J. Pryzbyla University Center last week. The organization comprises representatives from more than 50 denominations who speak as many as six languages. Some had traveled as many as 8,000 miles to attend.
Since COVID-19 hit, many of the academics and music practitioners in attendance have not been able to sing out even in their home churches, as congregational singing has been stifled in many houses of worship for fear of spreading the virus.
Though masking was enforced, the pandemic had lifted just enough this year for organizers to go ahead with the 2022 in-person meeting, celebrating the society's 100th year of existence.
"For the past three years, it's been so nice to see all of your faces on screen and be together in that way, but there is nothing like seeing your faces out here and being together to sing," said Executive Director J. Michael McMahon in greeting last Monday.
With the theme "Sing the World God Imagines," the gathering demonstrated the powerful influence hymns have, not only on faith communities but also on politics and society at large across the globe, as lecture sessions …