George Leslie Mackay arrived in Taiwan 150 years ago and is still beloved there today.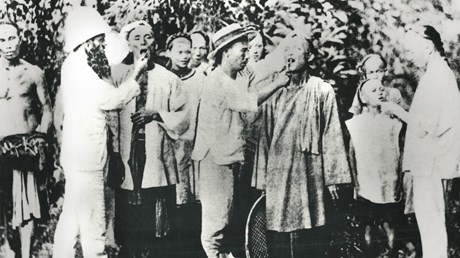 This year marks the 150th anniversary of Canadian missionary George Leslie Mackay's arrival in Taiwan. Perhaps the country's most beloved 19th-century Westerner, Mackay has been celebrated by Taiwan through children's books, stamps, statues, paintings, a manga, a puppet production, and an opera. Churches have reenacted his arrival, and several books are being published about the pioneer missionary. (The Taiwan government even has a bio of him on their website.) So what made this foreigner worthy of this level of affection more than 100 years after his death?
In 1872, the Canadian Presbyterian missionary arrived in northern Taiwan (then called Formosa). Over the next 29 years, Mackay planted more than 60 churches throughout northern Taiwan and baptized more than 3,000 people. He started Oxford College, a school he named for his home county, which today has become Aletheia University and Taiwan Graduate School of Theology. Mackay Memorial Hospital, named in his honor, is now a large downtown hospital in Taipei with two branch hospitals.
Beyond these accomplishments, Mackay's legacy cemented itself through his insistence on identifying with Taiwan and the Taiwanese. Mackay spent more than half of the 57 years of his life on the island. Upon his arrival in Taiwan, he realized how important learning to speak fluent Taiwanese would be for his mission and immediately began learning the language from the local boys herding water buffalo. Unlike most Western missionaries, he married a local woman, Tiuⁿ Chhang-miâ (often known as "Minnie Mackay"), and they had three children. Embracing Taiwan as his adopted homeland, he touched the hearts of many Taiwanese and contributed to the conversion of …