As refugees flee, the war-torn country is left in a pastoral leadership crisis.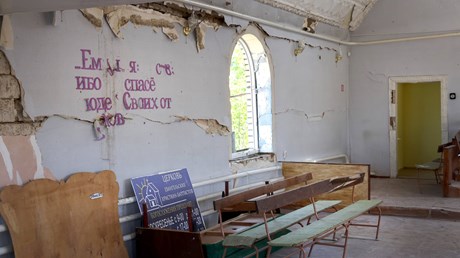 About 400 Ukrainian Baptist congregations have been lost in Russia's war on Ukraine, said Ukrainian Baptist Theological Seminary (UBTS) president Yaroslav Pyzh, who is working to restore pastoral leadership to impacted cities.
While volunteers at six humanitarian relief We Care Centers across Ukraine are helping internally displaced people winterize their homes, replacing roofs, windows, and doors, Pyzh said the real challenge for UBTS is to rebuild pastoral leadership in places pastors have been displaced.
"Since the war started, six months already, we lost about 400 Baptist churches. And so the real build is the rebuilding of leadership capacity, because if you rebuild buildings and you have no pastors to lead churches, I don't think it's going to do any good," Pyzh, a graduate of Southwestern Baptist Theological Seminary in Fort Worth, Texas, told Baptist Press last week. "So the real challenge is not so much rebuilding walls and windows and doors."
"The real challenge is similar to Nehemiah's challenge," he said, referencing the biblical story of Nehemiah. "It's not only rebuilding the walls of Jerusalem. It's rebuilding the nation of Israel, of worshiping God. … That's the same thing here in Ukraine."
Many pastors were displaced from war-torn areas, Pyzh said, leaving no one to bring godly hope in the midst of fear and hopelessness. About 2,300 Baptist congregations existed across Ukraine before the war began in February, according to the All-Ukrainian Union of Churches of Evangelical Christian Baptists.
"Our main challenge in the future, when the war will be over, is to bridge the gap in leadership that we lost," …