With 9 million girls "missing" due to sex-selective abortions over the past two decades, Pew report examines changes in "son preference" or "daughter aversion" among India's biggest faiths.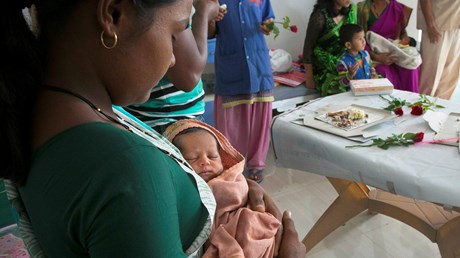 Nine million girls have gone "missing" in India over the past two decades due to sex-selective abortions, according to a new report on sex ratios and gendercide in the world's second-most populous nation.
The problem rests mainly within the Hindu and Sikh communities, according to government-backed data, while the subcontinent's Christians have maintained a "natural balance" of sons and daughters since 2001, according to a Pew Research Center analysis released today.
Pew estimates that Christians account for 53,000 of the "missing" girls in India, whereas Hindus account for 7.8 million, Muslims account for 590,000, Sikhs account for 440,000, and other religious groups such as Buddhists and Jains account for 110,000. (The tally for Hindus and Sikhs was disproportionately high compared to their share of the population.)
However, bias toward sons is waning among all religious groups in India, and researchers concluded the number of missing girls has dropped annually from about 480,000 in 2010 to about 410,000 in 2019.
"The new data suggests that Indian families are becoming less likely to use abortions to ensure the birth of sons rather than daughters," stated Pew research associate Yunping Tong. "This follows years of government efforts to curb sex selection—including a ban on prenatal sex tests and a massive advertising campaign urging parents to 'save the girl child'—and coincides with broader social changes such as rising education and wealth."
Pew's latest report on religion in India examines the sex ratio at birth among Hindus, Muslims, Christians, and Sikhs, as other religious communities were too small to study. The report …