More and more, it's causing broken relationships, burnout, and anxiety. But that doesn't mean we're called to "let go and let God."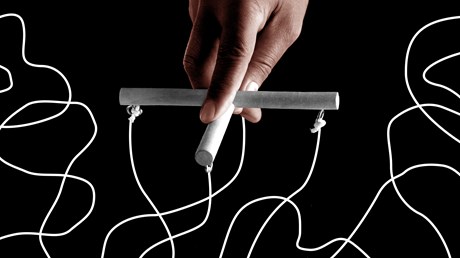 Over the past few years, I started noticing a pattern in my life.
If my housemates didn't wash their dishes quickly enough, I would jump in and do them myself.
If my fiancé didn't communicate weekend plans enough in advance, I would barrage him with a half-dozen ideas and desires.
If my boss started micromanaging me, I retreated into insecurity and passivity.
If the circumstances in my life felt chaotic, I would focus extra attention on diet and exercise.
The thread I noticed was one of control: of other people, my body, my work, or my future. Simultaneously, I was noticing that I experienced regular anxiety over work projects, relational conflicts, or fears about the future. I know I'm not alone. According to one widely cited statistic from the Centers for Disease Control, about one-third of adults experienced symptoms of anxiety during the height of the pandemic.
Others have noticed this connection, including Sharon Hodde Miller, a teaching pastor at Bright City Church in Durham, North Carolina. In her latest book, The Cost of Control: Why We Crave It, the Anxiety It Gives Us, and the Real Power God Promises, Miller examines our often destructive relationship with control and points us to solutions in Christ.
"When the pandemic robbed us of certainty and predictability, it laid bare an idol that had been strangling us, invisibly, for years," Miller writes. That idol is our illusion of control, which she argues is one underlying reason that our culture is chronically anxious, and many people—not just teenagers!—are feeling the effects of burnout.
Illusions of control
Miller defines control as "the power to influence the world around us and the sense of empowerment that gives." …