Evangelicals are eager to preserve their unity—and the country's.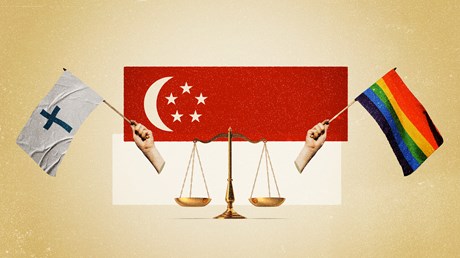 Singapore has decriminalized gay sex while pledging to add a constitutional amendment to protect the definition of marriage as between one man and one woman.
The country's evangelical leaders broadly opposed the government's decision to repeal Section 337A of the penal code and supported the proposed amendment. Though there are currently only mild discrepancies over strategies of engaging the government and the LGBT and same-sex-attracted community, they know the church is susceptible to division.
"There is understandable uncertainty and anxiety as we await the unfolding of a new social compact regarding marriage, family, and society involving citizens, the executive, and our law courts," wrote pastor Christopher Chia in a letter to Adam Road Presbyterian Church. "What can we do on this journey? How can we watch and pray wisely, humbly and patiently? Do not allow S377A and sexuality to be the single issue that defines and divides us."
Practicing biblical hospitality
Until prime minister Lee Hsien Loong's announcement last month, sex between two men was technically punishable by up to two years in prison.
The National Council of Churches of Singapore (NCCS) praised the previous arrangement in which 377A existed but was not enforced. The Alliance of Pentecostal & Charismatic Churches of Singapore (APCCS) argued that the decision "signals a rewriting of acceptable sexual relationships, and celebrates homosexuality as being characteristic of a mainstream social environment."
"There's a profound fundamental agreement in terms of theological response. It's the mode of engagement with government agencies that may differ," said Keith Lai, former president …