Brent Leatherwood stays on to lead the Southern Baptist entity after the "Dobbs" ruling and a major denominational abuse report.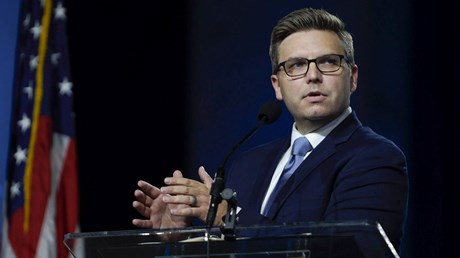 The Ethics & Religious Liberty Commission's interim leader, Brent Leatherwood, will become its next president.
Leatherwood spent the past year as acting president, leading the Southern Baptist Convention's public policy arm during a historic span that included the reversal of Roe v. Wade and landmark denominational moves on abuse reform. The ERLC board of trustees unanimously approved his appointment on Tuesday.
A five-year staff member at the ERLC, Leatherwood was chief of staff under the previous interim leader, Daniel Patterson, and vice president of external affairs under former president Russell Moore, who left his position and the SBC in 2021. (Moore is now editor in chief of CT.)
Like during Moore's leadership, the ERLC has continued to be a topic of debate in the Southern Baptist Convention (SBC), whose 48,000 churches operate independently but cooperatively. For some Southern Baptists, the ERLC's lobbying and training efforts around issues like religious liberty and sanctity of life represent an important form of witness and engagement. Critics, though, believe the ERLC and its leaders have taken stances that do not represent the denomination overall.
At the annual meeting in June, as in previous years, a proposal to defund the ERLC was voted down. Former ERLC president Richard Land told the convention, "I cannot imagine a more damaging moment for the Southern Baptist Convention to defund the ERLC."
Leatherwood also ran into pushback when he presented a vision for pro-life campaigns in the "post-Roe" era but didn't agree with an abolitionist minority who wanted to criminalize abortion. "You are not going to get me to say I want to throw mothers behind bars," …