Houston's College of Biblical Studies, where three-quarters of students are Black or Hispanic, finds ministry partners in DTS and Tony Evans.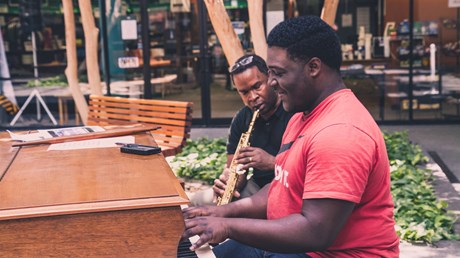 In an era when conservative evangelicalism and multiethnic urban ministry increasingly find themselves in tension, the College of Biblical Studies (CBS) is combining them.
The school averages 500 undergraduate students per semester online and across three campuses: Houston, Indianapolis, and Fort Wayne, Indiana. As its bylaws require, the student body is strikingly diverse.
In Houston—a majority-minority city—about half of the students are Black, a quarter Hispanic, and a quarter other ethnicities. The Indianapolis campus also has 50 percent Black students and 25 percent of other ethnicities, but the remaining quarter of its students are Burmese.
The church is "not one single group of people," said Chanelle Coleman, a 2021 CBS graduate and current student resource advocate at the college. CBS "does a great job of embodying what the kingdom of God and the body of Christ should look like."
Self-described by the college's doctrinal statement as inerrantist, noncharismatic, and premillennial, CBS's commitment to ethnic diversity and training urban students has yielded ministry collaboration with Dallas Theological Seminary (DTS) and author Tony Evans.
CBS offers bachelor's degrees in biblical counseling, biblical studies, organizational leadership, and women's ministry. A partnership with DTS, whose Houston extension shares a campus with CBS, allows students to earn a master of arts with one additional year of study. A program launching this spring will let students earn a DTS master of theology degree with two additional years of study.
The academic program is supplemented with discipleship. Juniors and seniors participate in a spiritual formation program utilizing materials …