The humanitarian aid organization works on the frontlines around the world and ranks among the largest charities in the US.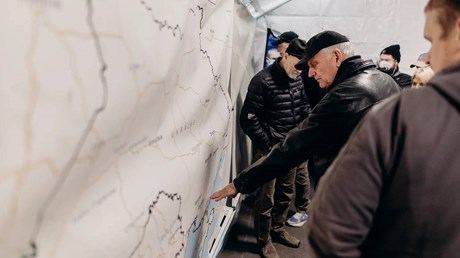 Each week, in a hulking warehouse in this small, western mountain town, Samaritan's Purse employees load semi trailers full of supplies for the people of Ukraine: medicines, food, tarps, blankets, hygiene kits and school bags for kids.
The trucks are then driven 80 miles east to the Piedmont Triad International Airport where they are loaded onto the nonprofit's DC-8 aircraft specially configured to carry up to 84,000 pounds of cargo. From there the goods are airlifted to Poland and then trucked across the border into Ukraine.
This week, Samaritan's Purse, headed by evangelical leader Franklin Graham, made its 30th airlift since Russia began its offensive against Ukraine in February.
The Christian relief organization estimates it has helped 5.5 million Ukrainians with medicine, food and water. Earlier in the conflict, it also operated an emergency field hospital in Lviv, and outpatient clinics across the country treating an estimated 17,758 patients. It now supports 30 medical facilities across the war-ravaged country.
The organization's 160,000-square-foot warehouse and offices in North Wilkesboro employ 385 people who buy, repair, maintain and retrofit millions of dollars' worth of medical equipment, generators and water filtration systems, much of them donated. The warehouse has six emergency field hospitals ready to ship, four with tents, hospital beds, anesthesiology equipment, X-ray machines, and surgical suites—all engineered to fold into a plane's fuselage. There are also miles of plastic tarps, mountains of clothing and boxes full of small brown teddy bears with the Samaritan's Purse logo—a cross inside a circle.
Samaritan's Purse, now in its 52nd year, has become …