A new position at Holy Trinity Brompton reflects growing concern about climate change among some Christians.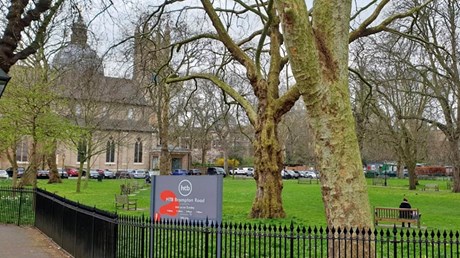 The job ad was a little different than the ones normally posted by London's largest churches. It wasn't for a pastor, priest, choir director, or organist. Instead, the large evangelical Anglican congregation wanted an environmental project manager.
Holy Trinity Brompton (HTB), perhaps best known as the birthplace of the evangelistic Alpha course, has advertised a position for someone who will help "oversee the strategy, planning and execution of HTB's approach to Creation Care." The individual will work closely with other lead team members to put an "environmental response at the heart of church life."
Jobs like this at places like HTB are notable, said Jo Chamberlain, national environment policy officer for the Church of England. Such roles, she said, signal a sea change. Evangelical churches in the UK—and perhaps elsewhere—are embracing the critical importance of creation care and environmental stewardship at the congregational level.
"People are recognizing that we have to get our house in order," Chamberlain said. "We can't just talk about taking care of creation without doing the work and changing the way we do things."
HTB has six sites in London with around 3,500–4,500 worshiping every Sunday. It has planted 130 churches in England and Wales and become influential enough that some have called it the "centre of British evangelicalism." The new staff member will help the six sites develop plans to be recognized as "eco churches" in five to seven years.
The "eco church" designation is awarded by A Rocha UK, part of an international network of environmental organizations with a Christian ethos, for …