New tourism initiatives recruit vacationers to volunteer for archaeological excavations.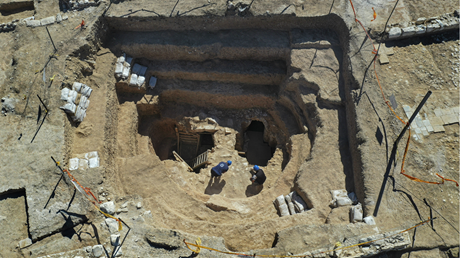 Biblical archaeology is back in full swing in Israel—after a two-year pandemic delay—and now the digs across the country are going to get a new boost from tourist-volunteers.
Israel's Tourism Ministry has launched a new initiative aimed at getting Christian tourists involved in excavations. And a group affiliated with the American Society of Overseas Research (ASOR), the largest organization for professional American archaeologists working in Israel, is starting a 13-day tour with visits to 27 sites.
American archaeologists working in Israel welcome the new programs. Encouraging "archaeotourism" is good for archaeology—boosting the local economy, cultivating interested in the ongoing academic work, and supplying archaeologists with a steady flow of volunteers.
"We couldn't get anything accomplished without them," said Steve Ortiz, director of the Lanier Center for Archaeology at Lipscomb University in Nashville, Tennessee. Ortiz co-led a 10-year excavation at Tel Gezer, and is now a codirector of the Tel Burna Archaeological Project.
Getting tourists involved in archaeology isn't a new idea. Israeli archaeologist Yigael Yadin sought out and recruited volunteers for the excavation of the famous site of Masada in the 1960s. Ever since, a stream of people have paid their own way to the Holy Land to dig, haul, and sift dirt, spending part of a vacation contributing to the grunt work of scholarship and the chance to touch a little bit of biblical history.
Every year, until travel was halted for COVID-19, hundreds of tourists visited archaeological sites in Israel. Archaeotourism is also promoted in neighboring Jordan and Turkey.
Cynthia Shafer-Elliott, a religion professor …