Christians believe in mercy amidst moral failing. But how then should we vote?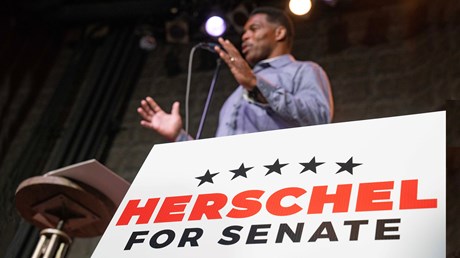 A recent campaign ad for Herschel Walker, the Republican Senate candidate in Georgia, is titled "Grace."
Democratic Sen. Raphael Warnock is "a preacher who doesn't tell the truth. He doesn't even believe in redemption," Walker says about his opponent in the clip. "I'm Herschel Walker, saved by grace, and I approve this message."
The messaging, leaning on Christian language around forgiveness, is part of Walker's campaign among Christian conservatives in Georgia. And it came two days after the former NFL and UGA football star dismissed a Daily Beast report that he urged a then-girlfriend to get an abortion after he impregnated her in 2009.
It's a neat trick: I didn't do it, Walker's overall messaging says, but if I did it, you should forgive me if you believe in God's redemption. You should give me grace.
He insists the receipt from the abortion clinic, the bank image of his signed personal check, and the signed "get well" card she presented as evidence "haven't shown anything." He brushes off the New York Times report in which the same woman alleged he pushed her to get a second abortion in 2011 and, after she refused, became a distant father, rarely present in the life of their now 10-year-old-son. He's sworn to sue the Beast for defamation over its "flat-out lie."
Maybe Walker is telling the truth, in which case I hope his suit succeeds (even though, full disclosure, I regularly write for The Daily Beast). To be falsely subjected to an accusation like this in the national press would be a great wrong.
But unlike some other years-old accusations of candidate wrongdoing to which the Walker allegations …