When serial killer stories rank among the country's top shows, we're guilty of fueling a dark trend.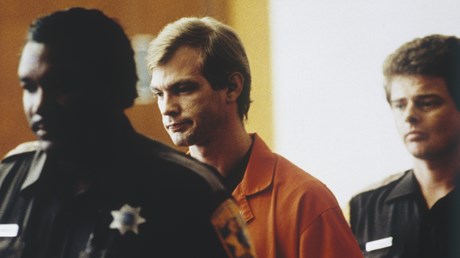 There are thousands of things to watch on Netflix—but right now, two of the top ten shows on the platform are about serial killer Jeffrey Dahmer.
Dahmer – Monster: The Jeffrey Dahmer Story, a drama series produced by Ryan Murphy, broke Netflix records in its opening week last month, according to the Los Angeles Times, and remains the platform's most popular English language series. Conversations With a Killer: The Jeffrey Dahmer Tapes, a docuseries, debuted a week ago. Both portray one of the most gruesome serial killers in American history.
The popularity of these series is no surprise given the growth of true crime as an entertainment genre—everything from podcasts to narrative journalism to television series and films entrance audiences with storytelling, suspense, and a collective longing for justice.
But the popularity of these programs, especially those that reiterate the horrifying acts of serial killers, reveals a rotten reality about our society. Seeing Monster at the top of Netflix's trending list should prick our consciences and drive us to consider how such shows affect us and the real-life people whose stories are flattened for our screens. The dark rise of serial killer true crime has moral weight for those who aim to reflect a God of light and life.
Monster dramatizes the horrific crimes of a man who brutally slaughtered and in some cases cannibalized 17 young men, many of whom were Black and gay, in Milwaukee between 1978 and 1991. Families of victims have spoken out against the show, confronting Netflix for not consulting them and challenging viewers to consider the real people still impacted by Dahmer's despicable crimes. TV critics have needled the show's failure to handle …