Christian advocate: The uprising in Tehran coincides with the rising disillusionment with Islam and the growth of the underground church.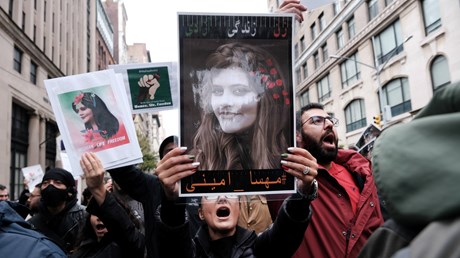 Growing up in a home with a Muslim father and a Christian mother, Iranian American Shirin Taber had a special appreciation for being able to choose what she believed. When she told her dad that she wished everyone back in Iran could have the same freedom, he—knowing the harsh reality of the regime—said it would never happen.
Since then, Taber has worked on the cause of international religious freedom, hoping to see the trajectory change in one of the most restrictive countries in the world. And with the current uprising of Iranian women and young people, the American advocate is more optimistic than ever.
In Iran, Generation Z—whose grandparents lived through the revolution—has become particularly emboldened, creative, and strategic, inspired by the impact of movements like #MeToo and #BlackLivesMatter.
"Millennials did their part, Gen X did their part, their parents, but this generation is very unique," Taber said, referencing the viral impact of young activists, including the move to dye Tehran's fountains blood-red. "Gen Z is no-nonsense. They'll just go out tough. The girls, they'll cut their hair, and they'll jump on cars."
Iranians eager for reform have held out hope that they could work within the Islamic government, but Taber believes the country has reached a tipping point.
It's been a month of protests, spurred by the death of 22-year-old Mahsa Amini, who was arrested for not wearing her hijab properly. The viral videos of women cutting their hair symbolize longstanding grievances beyond dress code regulations to women's unequal status in inheritance, marriage, custody, and travel.
The political pushback, Taber says, correlates with a …