Remembering the heroics and good works of athletes, coaches, and fans.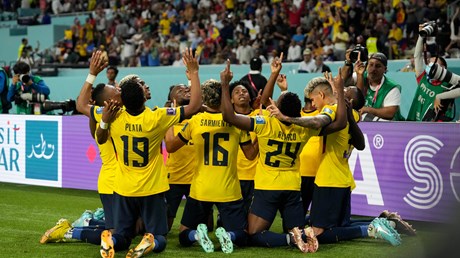 This third Sunday of Advent, millions of Christians will be at church. But millions will also be glued to a screen, anxious to find out if the Argentinian GOAT will at long last claim a World Cup title. Though past his prime, the 35-year-old team captain Lionel Messi has been sublime in the competition, with five goals and three assists under his belt, and is leading the golden boot race in his fifth World Cup.
Although the reserved Messi, whose right arm bears a tattoo of Jesus crowned with thorns, has not expressed his faith openly beyond pointing to heaven after his goals, this World Cup has featured numerous heroics of confessing Christians.
Leading the freewheeling French attack against Argentina will be 36-year-old striker Olivier Giroud, who has Psalm 23's "The Lord is my shepherd. I shall not want" tattooed in Latin on his right arm. During this World Cup, Giroud became the all-time top scorer for France with four magnificent goals.
While the team's talisman Kylian Mbappé has lived up to the hype with his blistering speed and lethal shooting, Giroud has provided a reliable focal point in offense and his selfless play has created openings for his teammates. "I try to speak about my faith whenever I can," he said after winning the World Cup in 2018. "I feel I have to use my media profile to talk about my commitment to Jesus Christ."
During most of the past decade when Giroud played for two clubs in London, he attended St. Barnabas Church in Kensington, which belongs to the evangelical wing of the Church of England. During France's quarterfinal against England, when he netted a header …