From papyrus in Montana to ivory in Jerusalem, these are the discoveries that made scholars of the biblical world say "wow" this year.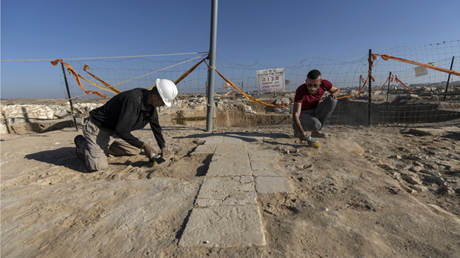 Biblical archaeology is a slow process. Not only does it take years to dig and sift the artifacts of biblical history, but it also takes years to analyze and interpret the discoveries. The most important things unearthed in 2022 will not be widely known for years. But the past 12 months have seen some amazing announcements of findings that expand our knowledge of the world of the Bible.
Here are 10 of the most important archaeological finds that made news this year:
10. A papyrus in Montana
A scrap of papyrus framed and hung on the wall of a home in Montana was identified as one of a handful of Hebrew texts older than the Dead Sea Scrolls. The text is a little larger than a postage stamp, with four short lines of ancient Hebrew, including the name Ishmael. The unnamed owner said his mother was given the papyrus when she visited Israel in 1965. Israeli authorities believe it dates to around 700 B.C.
The owner agreed to donate the historic object to the Israel Antiquities Authority, so that it can be properly preserved and studied. Experts do not know where the papyrus came from originally, but they do think it's genuine. Radiocarbon tests matched the paleographic dating of the writing style. Ishmael was a common biblical name going back to the time of Abraham.
9.Farm life in Galilee
Rural life in Galilee came into sharper focus when work on a water project uncovered remains of a farmstead. The farm was abandoned for unknown reasons about a century and a half before Jesus' lifetime. The workers left behind implements and equipment, including pieces of a loom and large storage vessels, giving scholars insight into the average day at the time the Hasmonean kingdom, during the Hellenistic period, was expanding north from …