Christian communities in former Soviet Union nations reap the benefits of still-secularized holiday, winning recognition and opportunities for the gospel.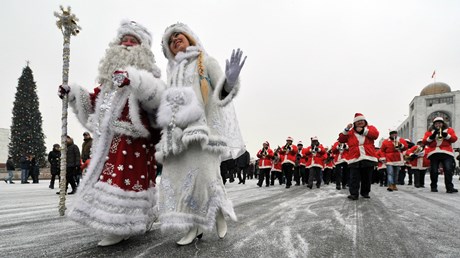 Kris Kringle should be in Kyrgyzstan.
If he is efficient, that is. The Central Asian nation, according to a 2007 study by Swedish consultants, is the geographic center best situated for his annual toy delivery campaign.
Regional evangelicals welcome his advent.
With snowfall and freezing temperatures from November to April, Old Saint Nick would feel right at home in the mountainous peaks that raise overall topographic elevation to 9,000 feet. But whatever the religion of his army of elves, Father Christmas would have to adjust to Islamic customs in the valleys below.
Quick to seize on the marketing opportunity, the 90-percent Muslim-majority nation declared 2008 as "The Year of Santa Claus."
There was eventual pushback. Frustrated with the following revelry, in 2012 the Kyrgyz Muslims' Religious Administration (KMRA) issued a fatwa forbidding celebrations on New Year's.
Not Christmas. Not even Xmas. The birth of Jesus is an official holiday.
But it is observed on January 7, not December 25. The 7-percent Christian population is mostly Russian Orthodox, who follow the Eastern almanac. And since independence in 1991, the government has honored its primary religious minority with few Muslim objections.
New Years Day celebrations on January 1, however, are a holdover from the Soviet era. The atheistic communists banned Christmas in 1917, and in 1935 reconstituted it as a secular holiday, one week earlier. No baby Jesus, but no Santa Claus either.
The Russians instead promoted a vague ethereal figure named Ded Moroz, which translates as "Grandfather Frost." And they kept the trappings of tree decoration, gift giving, and family gatherings. With Islam suppressed as well as Christianity, over time the …