ISIS affiliate strikes Pentecostal baptismal service amid longstanding conflict in Central African region rich in natural resources.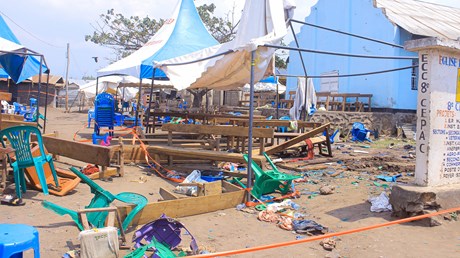 Congolese Christians are calling out for help.
In the latest attack on civilians in the Democratic Republic of Congo (DRC), a terrorist bombing killed 14 people and wounded 63 others during a baptism service at a Pentecostal church in Kasindi. Located in the mountainous North Kivu province bordering Uganda, the northeast region had already been under a government-imposed "state of siege" since 2021.
"The Eastern Congo has become a theater of violent extremism," said Eale Bosela, regional director for the Association for Christian Theological Education in Africa. "People are being massacred like animals."
The bomb attack was blamed on the Allied Democratic Forces (ADF), an affiliate of the Islamic State Central African Province, which claimed responsibility. Originally formed in 1996 as a mix of jihadist and insurgent rebels, it is one of over 120 armed groups in the DRC.
Many Congolese were confused—and troubled.
"How can such a situation happen," stated Kiza Kivua, a 50-year-old farmer who lost his brother in the attack, "when Kasindi is full of soldiers?"
With an estimated 500 fighters, the ADF was once motivated primarily by its opposition to Yoweri Museveni, president of Uganda since 1986. Pushed across the border, the militant group now has a majority Congolese membership with many foreign recruits.
A Kenyan national was arrested by the DRC.
"Like so many other groups, the ADF has found refuge in the region," said Scott Morgan, chair of the African Working Group of the International Religious Freedom Roundtable. "But now they have taken on the mantra of attacking Christians."
They are not the only ones.
Other militant groups such as M23 …