Conversions credited to women evangelists sharing the good news one-on-one in conversations.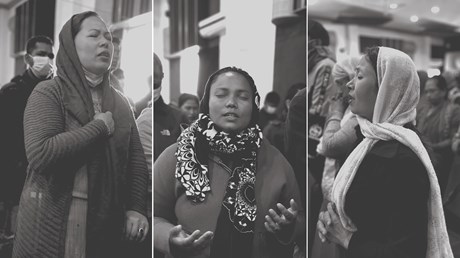 Tanuja Ghale saw a young woman on the street in Kathmandu, the capital of Nepal, and told her she was beautiful.
The woman started weeping.
"Her husband had beaten her the same morning and told her that she was the worst woman in the world," Ghale, an evangelist who owns a salon, told CT later that day. "When I tell women, 'You are so beautiful,' they are shocked and want to know what beauty I see in them that their loved ones have never seen or acknowledged. It is then that they are ready to hear about the God who loves them unconditionally."
Christianity is growing rapidly in Nepal, the Himalayan nation located between India and Tibet. And the spread of Christianity in the majority-Hindu country is largely credited to women like Ghale.
"Women are the ones who have carried the gospel. They have been the church planters," said Dilli Ram Paudel, the general secretary of the Nepal Christian Society. "One of the major sources of growth in the Nepalese church are women who 'gossip' the gospel in their everyday lives, thus bringing many to the saving knowledge of Jesus Christ."
In 1951, when modern-day Nepal was founded, there were no known Christians in the country. Proselytizing and conversion were prohibited. The first Protestant church was established a year later, though, by Nepali Christians from India. Unlike in many countries, Nepal's first churches were not led by Western missionaries. Nepali believers led the way.
By the early 1970s, there were about 500 baptized Christians in the country. Evangelism carried a possible criminal sentence of three years in prison—successful evangelism, six—but Christians continued to tell people about …