Both leaders have huge followings. But how well do we really know them?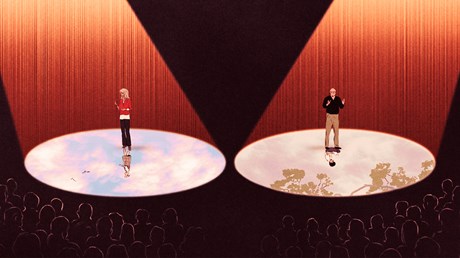 It is an awesome burden which the biographer takes up," writes Elisabeth Elliot in her 1968 biography of missionary R. Kenneth Strachan. Any such project is "a judgment—upon the subject most obviously, upon the biographer himself, and upon any who were associated with the subject." To read such a work is at some level to become involved in the judgment. The reader is invited to grapple with the questions raised by the subject's life.
And yet, we are endlessly fascinated with biographies, not to mention autobiographies, memoirs, interviews, published diaries, collected letters—everything falling under the umbrella of "life-writing." In reading them, we hope, perhaps, to glimpse the inner workings of the human heart and mind, to tease some meaning out of what Elliot calls the "careless—apparently, at times, haphazard" events of a human life. Perhaps the light shed by these other lives can help us more clearly see the shapes of our own.
Two recent releases offer this opportunity. The first, Timothy Keller: His Spiritual and Intellectual Formation, is a biography of the author and retired pastor, now in his 70s and undergoing treatment for pancreatic cancer. A teacher since 1975, Keller became nationally known after 9/11 for his role in the growth of New York City's Redeemer Presbyterian Church.
Author Collin Hansen, editor in chief of The Gospel Coalition, lightly sketches what could be called the personal side of his subject's life. Keller's mother was involved and demanding; his father, emotionally absent. Keller left for college disenchanted with the gracelessness he saw in the churches of his youth. Despite majoring in religion in order to …