The tearful worship prompted good and bad memories from growing up in Korean American Christianity—and a needed discussion on church hurt.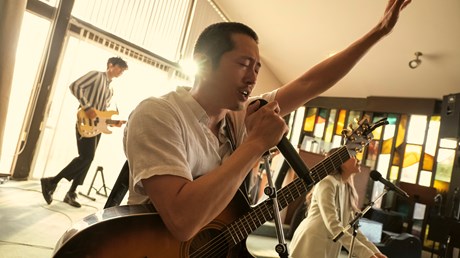 Are you hurting and broken within? Overwhelmed by the weight of your sin? Jesus is calling…"
I've sung these lyrics from "O Come to the Altar" countless times. I've heard the song at church, at conferences, in my car … but never did I expect to hear it on a hit Netflix show.
It wasn't just the song. The entire church scene from Beef felt pulled from my life. As the worship band sang, the camera panned through the room to reveal congregants with their eyes closed and hands raised, a sea of black hair swaying in a rhythm that I knew all too well.
The sanctuary was well worn and outdated, the kind of space that could easily be converted into a multipurpose room. Mismatched chairs in rows served as pews, and the tilted commercial vertical blinds didn't really block out the light. The doughnuts after the service were all too familiar. The only way it could've been better is if they had eaten rice, kimchi, and bean sprout or radish soup.
In the Netflix dark comedy Beef—currently the most popular show on the platform—actor Steven Yeun costars as Danny Cho, a struggling contractor who gets involved in a road rage incident. He's had a hard life, and in a rock-bottom moment, he walks into a church sanctuary. Danny feels out of place in a room that aesthetically is anything but conducive to worship, yet he gets immersed in the communal praise around him. He cries, and a pastor comes to pray over him.
The worship hit especially close to home for me; not only did it remind me of nearly every Korean American immigrant church I attended growing up, but I also used to serve at the Los Angeles church whose band appears in the show. Hearing lyrics about God's …