As foreigners evacuate, Sudanese Christians remain caught in the crossfire of rival generals.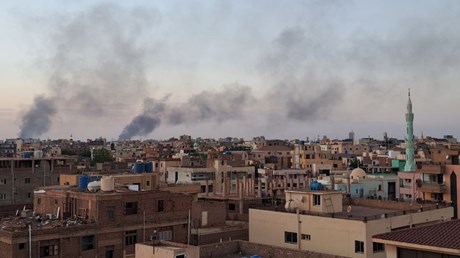 Sudan's most Christian neighborhood is under attack.
Collateral damage amid severe clashes between the army and its previously partnered militia, churches in the Bahri district of the capital Khartoum and surrounding areas have witnessed the worst of the past three weeks of fighting.
The Evangelical Presbyterian church suffered a fire as munitions exploded in a nearby market. The Coptic Orthodox church was struck by a rocket. And All Saints Anglican Cathedral was occupied by militant forces.
Over 500 people have been killed, with more than 4,000 injured.
"The situation is very serious," said Ismail Kanani, general secretary of the Sudanese Bible Society. "I am trapped in my house, without power and water."
Prices for food and fuel are skyrocketing, electricity supply has been cut off in much of the capital, and hospitals have been looted and are barely operating. A three-day truce has been agreed—and violated—to allow civilian escape and embassy evacuations.
Almost all Christians have left the area, said Abdalrahim Musa, director of the Evangelical Cultural Center of the Bahri Presbyterian church. An eyewitness to the carnage, like many other Christians he fled three hours south to Wad Madani, an area relatively distant from the conflict.
But in their absence, he hears reports of widespread looting of their properties.
They are not the only ones displaced. More than 100,000 people have fled Sudan, according to the United Nations, with an additional 334,000 displaced within the country.
Foreign governments have frantically sought to evacuate their citizens. Under cover of armed drones, the US organized a land convoy for 300 Americans and other nationalities to the Red Sea city of Port Sudan. …