Christians are helping address affordable housing shortages by opening up their spaces to families from Afghanistan and elsewhere.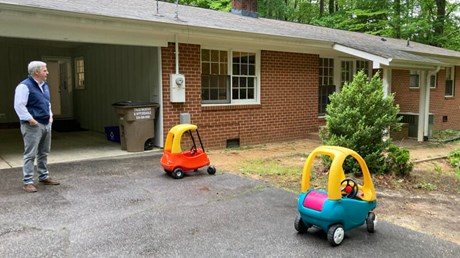 With the US withdrawal from Afghanistan nearly two years ago, religious congregations across the country began extending an embrace to refugees.
Partnering with resettlement agencies, they helped families escaping war and political turmoil settle into homes, find jobs, learn English and acclimate to life in the US.
Now, in a corner of North Carolina, a group of Baptist churches has begun to deepen that support by retrofitting vacant church-owned buildings—often homes—for refugee housing.
Organized through the Cooperative Baptist Fellowship of North Carolina but open to any religious congregation, a new initiative encourages churches to refurbish church-owned parsonages, office buildings, youth clubhouses, or single-family homes and make them available to refugees or humanitarian parolees for a nominal fee.
"It's increasingly difficult to find affordable housing for refugees," said Marc Wyatt, a missionary who founded the Welcome House Community Network. "Churches have physical property and buildings that are underutilized. Rethinking the use of those buildings for housing is our vision."
Last Saturday, the network held its first housing and hospitality summit with 210 congregational leaders—mostly from North Carolina—wanting to learn more about how to use vacant church properties to minister to refugees.
The conference made plain twin realities: A glut of underutilized church properties and a severe shortage of affordable housing for newly arrived refugees with few means.
So far, about a dozen churches in North Carolina's Triangle region, anchored by Raleigh, Durham and Chapel Hill, have retrofitted ancillary buildings for use by refugees. In all, about 40, including churches …