Chun Woo-won's apology for his military dictator grandfather's sins is Nehemiah in action.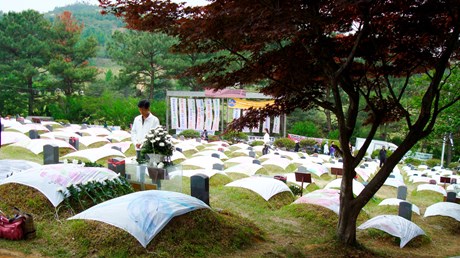 Midway through global K-pop sensation BTS's 2015 track "Ma City," J-Hope raps a lyric that's both a personal homage and a history lesson: "Everyone dial it, 062–518." Those digits are a cleverly encoded reference to his beloved hometown Gwangju. The South Korean city's area code is 062, and 518 harkens back to May 18, 1980, and the prodemocracy mass uprising that took place in Gwangju on that date.
A little more than a week later, a military crackdown that included tanks and helicopters stormed the hundreds of thousands of civilians who had gathered to protest Chun Doo-hwan's military coup and dictatorship. The brutal attack left 144 civilians dead, according to official government figures, although surviving eyewitnesses claim that the true death toll surpassed 2,000. Thousands more were injured, with many falling victim to indiscriminate beatings, rapes, disembowelments, and torture carried out by riot police and paratroopers. The state massacre is widely considered to be one of the darkest moments in Korea's struggle for democracy.
In 2010, BTS's Suga released the hip-hop track "518-062," which pays tribute to courageous victims and calls a new generation to join him in "memorizing" the scars and wounds from "that dark past day":
their bodies are filled with scars from the flag
darling, I'll ignite your will again
brothers, I'll memorize your scarred Korean flesh without pause
"[I want] to ask people not to allow the uprising to fade little by little from their memories and to remember it once again," Suga said when the track debuted.
Chun Woo-won, the 27-year-old grandson of the late former president …