A new biography offers an intimate account of his spiritual life, on and off the baseball field.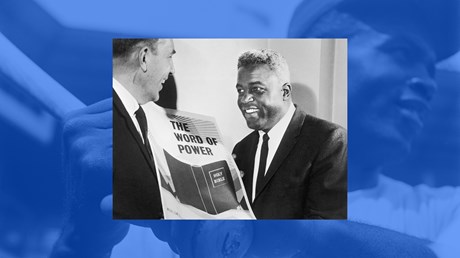 Jackie Robinson, the first African American to play in the modern era of Major League Baseball (MLB), is undoubtedly one of the most significant cultural figures in the history of professional sports. Fittingly, his remarkable life has inspired a number of excellent books aimed at diverse audiences.
The starting point for reading about Robinson ought to be his fantastic memoir, I Never Had It Made, published in 1972 just days after his sudden death at age 53. In it, Robinson details the extraordinary challenges he faced as an agent of integration. And it offers equally keen insights into the man himself, particularly his life after baseball as he tried to balance family, business, and civil rights activism on his own terms.
Relying heavily on the letters of Robinson's wife, Rachel, Arnold Rampersad's 1997 Jackie Robinson: A Biography offers more nuanced details on Robinson's upbringing in Southern California and his often-strained family life. The year before Robinson's death, his son Jackie Robinson Jr. died in a car accident after struggling for years to overcome substance abuse issues related to war wounds suffered in Vietnam in 1965. Rampersad's account of Robinson's life is also a work of genuine literary merit crafted by one of the best biographers of the late-20th century.
Several excellent children's books, too, have been written about the pioneering baseball star. Most impressively, Frank J. Berrios and Betsy Bauer's My Little Golden Book about Jackie Robinson explains Robinson's significance in an understandable and age-appropriate manner for young readers.
More recently, Kostya Kennedy's True: The Four Seasons of Jackie Robinson (2022) delves into the transformative …