Children's minister and artist collect 150 songs to span generations.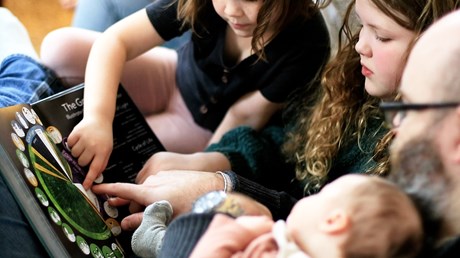 In 2018, Britta Wallbaum and Lindsey Goetz traveled to a worship conference in Nashville. They hoped to come away with new resources to engage children in musical worship at their Presbyterian church in Aurora, Illinois. As they browsed merchandise for leaders displayed in the rows of vendor booths, neither could find the item they had hoped for: a hymnal for children.
"There were zero resources to share with kids," said Wallbaum. "There were songbooks [for children] with sheet music but no ways to actually engage kids with them."
The two friends wandered the exhibit hall separately, not knowing that the other was looking for the same thing. When they realized their common goal, it seemed like a divine appointment. They decided to make the resource they wanted for their church and for their own children.
The Gospel Story Hymnal is the product of years of writing, illustration, and curation by Wallbaum and Goetz, who formed Word & Wonder to provide resources for worshipers of all ages, including children.
Crowdfunded by a Kickstarter campaign, the hymnal is a collection of 150 hymns, including centuries-old mainstays like "A Mighty Fortress Is Our God" and "All Glory, Laud and Honor" and more recent works like Michael Card's "Barocha." It also contains a schedule that families can use to work through each hymn and the accompanying commentary over a three-year period.
There are five sections in the hymnal: "Creation," "Rebellion," "Redemption," "Already, but Not Yet," and "Restoration." Wallbaum and Goetz wanted the hymns to help tell a broad, unified story.
"The Bible isn't a bunch of disconnected …