Can the creator of "God Made a Fighter" political ads woo evangelicals from Trump?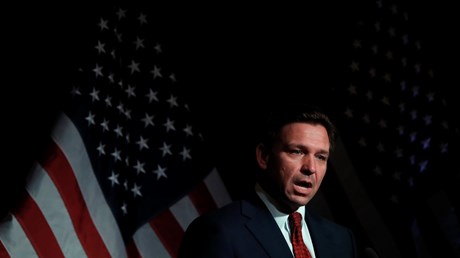 Will they, or won't they? The question of white evangelical voters' support for former president Donald Trump isn't over yet.
As Florida governor Ron DeSantis seems to be preparing to formally enter the Republican presidential primary for 2024, it could launch a notorious new season, set in sunny Florida and shaped by a buzzy subplot about Christian nationalism, which DeSantis and Trump alike have been accused of propagating.
Trump's use of Christianity as a political prop is by now well known. Though demonstrably unfamiliar with basic aspects of the faith, the former president gamely toted his Christianity around on the campaign trail and in office. (Sometimes he literally toted it, as when he held up the Bible in front of a church sign for a photoshoot.) In 2016 and 2020, Trump hit his marks, visiting Christian colleges, conferences, and churches, and this year, he's been eager to remind Christian voters—particularly evangelicals—how well that played with many of them before.
But compared to 2020, when Trump ran functionally unopposed for the GOP nod, in 2024 he'll have competition. DeSantis, widely expected to be Trump's most formidable primary opponent, is an especially interesting example here, as his campaign use of Christianity is more knowledgeable and sophisticated than Trump's has tended to be. Will evangelicals see him as one of our own?
A practicing Catholic, DeSantis has a facility with biblical references Trump could never quite master, and he fits comfortably in evangelical culture in a way Trump does not. He's a throwback to pre-Trump Republican appeals to white evangelicals as a voting bloc, in which candidates often …