Baltic Methodist Seminary offers a rare safe space to Slavic foes.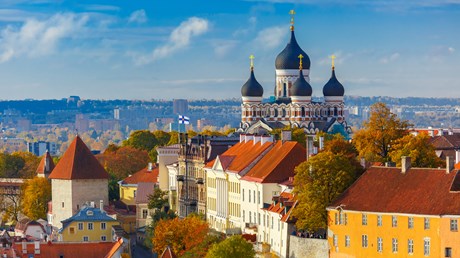 Since Russia's invasion of Ukraine last year, few European institutions have welcomed both Slavic foes. A rare example is found right on the border, in a nation that wonders if it might be next.
Estonia, the northernmost of three small former Soviet republics on the Baltic Sea, immediately rallied in support of Ukraine. Given that Russia's aggression began on February 24—coinciding with Estonia's date of independence, first proclaimed in 1918—some wondered if it was a deliberate message.
The initial blitzkrieg toward Kyiv reminded Estonians of the Soviet occupation of the 1940s. Politicians donned blue and yellow ribbons; military brass sent weapons and aid. Citizens, including the 1 in 4 with Russian ethnicity, reacted to the atrocities in horror.
But as many universities closed their doors to students from Russia and allied Belarus, one evangelical institution bucked the trend. Baltic Methodist Theological Seminary (BMTS)—fully united with the national stance condemning the war—insisted instead on the unity of Christ.
"We did not hang a Ukrainian flag, but held a joint prayer of lament," said Külli Tõniste, BMTS president. "Preservation of community is more important than an outward show of patriotism."
Founded in 1994 and accredited by the state, the Methodist seminary hosts students from neighboring Latvia, nearby Finland, the United States, Israel, Nigeria, and Ghana. But it was the caldron of Russians, Belarusians, and Ukrainians—43 percent of the student body—that could have proved to be a tinderbox.
Yet sensing confusion and insecurity among many, Tõniste—an Asbury Theological Seminary alumna with a PhD from the London …