God chose a Hebrew raised as an Egyptian to lead his people out of slavery.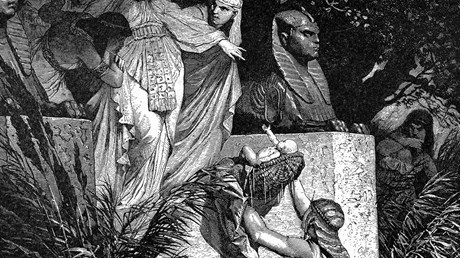 I was six when I found out my sister and I didn't have the same father. I was six when I realized that someone could be married more than once. I was six when I started asking questions about how families are made and how they fall apart.
I stood at the edge of our narrow kitchen, hours after I'd gone to bed. We'd been woken by earthquakes often since moving there, but this time only familiar voices were shaking.
All I heard clearly was my sister, Cathy, saying, "I'm going to move back to the States to live with my dad."
To this day, I struggle to remember the weeks after that night. I don't know what I said to my sister or what my sister or my parents explained to me the next morning. I remember what Cathy wore at the airport when she left: a black and white herringbone coat that went to her ankles.
I watched her leave, and with barely an ounce of understanding about what was happening or why, I believed it was all my fault.
When we returned home, I went straight to Cathy's teenage room. In the past, she hadn't allowed me inside. But that day, in the aftermath of losing her, I sat there for hours looking for clues. I read through her school notebooks and studied her handwriting, gripping everything in my lap as if someone or something might come at any moment to snatch it all away.
After that, much of my childhood was spent alone, playing with dolls in the basement playroom.
Weather permitting, my mom sometimes let me wander around the neighborhood on foot or by bicycle. For such a big city, Tokyo is safe. I wandered on busy sidewalks and empty streets, always alone, always on the outside looking in. I grew familiar with the view from the other side of the glass.
Those four …