The African country has seen conflict and coup over and over, but this time, says historian Christopher Tounsel, believers are right in the middle of it.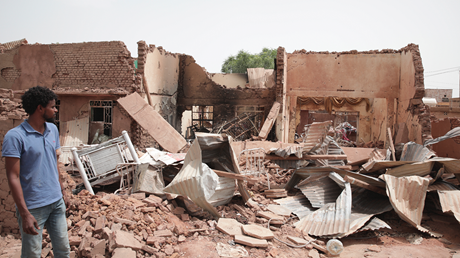 Shells rocked the Sudanese capital of Khartoum on Sunday, with no signs of abating even after a full month of fighting. Across the Nile, gunmen attacked a church in Omdurman, injuring a Coptic priest and four others. Each side of the conflict blamed the other, according to Reuters, and the fighting continued.
Representatives of the warring factions have been brought to the negotiating table in Saudi Arabia to discuss a ceasefire. So far, neither side seems willing to accept concessions.
According to Christopher Tounsel, a historian who writes about Christianity in Sudan, the churches in the capital are praying fervently for an end to the violence. Even for believers used to living in political peril, navigating the current conflict will be no easy task.
Are Christians taking sides in this conflict in Sudan?
There's an African proverb that says when elephants fight, the grass gets trampled. This is one of those situations.
Throughout Sudan's modern history, Christians have been faced with governments that have tried to impose Islam as the state religion and not allow them the freedom to worship. So the Christians there have thought a lot about what it means to be good citizens and faithful citizens in tough situations, what Christian duty to an oppressive state looks like.
But now they're faced with this problem, what does it mean to render to Caesar what is Caesar's when it's not clear if there is a Caesar, if there are two Caesars, or none that have any legitimacy? What is the Christian obligation? To wait it out? To leave? To fight for a third option? It's a classic question that has been posed in a range of contexts in church history, but it's urgent in the Sudan right now.