A new documentary follows the lives of 10 of the men responsible for horrific attacks on the Kandhamal church.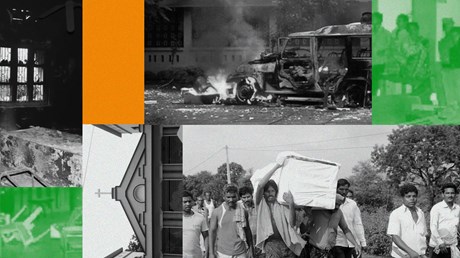 "Christ is indeed alive at the ground zero of the worst [Christian] persecution in Indian history."
That's journalist and documentarian Anto Akkara's takeaway after 15 years of telling the stories of a Christian community in the eastern state of Odisha (formerly Orissa), India, systemically ravaged by Hindu mobs in 2007 and 2008.
Over these two years, extremists took the lives of 100 Christians, burned down 6,500 houses, and burned down or vandalized nearly 400 churches and places of worship. More than 40 women were raped and sexually assaulted, and the violence disrupted school for 12,000 children for years. (Previously, Kandhamal Christians had been subject to sporadic terror, though nothing at this level.)
Starting in 2010, Akkara has made 34 trips to the rural Kandhamal region, where he has filmed four documentaries focused on how this violence has impacted the victims' lives. For his latest release, The Right Hand of God over Kandhamal, Akkara uncovers the fates of 10 assailants who attacked the Christian community and concludes there has been some sort of "divine retribution" at work. Eight have died, including two by suicide, one in a car crash, and one from paralysis. Another lost his ability to speak. Beyond those whose stories he investigates, there are even more that he says regret their actions and have "embraced the faith they once tried to banish from Kandhamal."
Akkara recently spoke with CT's South Asia correspondent Surinder Kaur about his surprising conversations with the assailants, the ways his reporting changed how he sees God, and the courage and boldness of the Christians who lost everything.