One generation of Soviet refugees is welcoming another.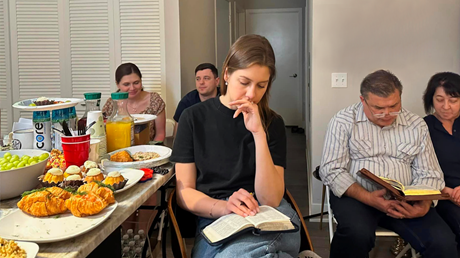 Sergei Karpenko's Chicago church is now almost entirely made up of refugees from the Russian war against Ukraine.
Many of them aren't from a church background, so the pastor of Bible Church of Ukraine-Chicago spends his mornings eating breakfast with the new arrivals and evenings hosting Bible studies in his apartment.
"It happens by the providence of God that I am here, and God sent new people from Ukraine," Karpenko, who is Ukrainian himself, told CT. "I never prepared myself for such a ministry. We're making mistakes and learning. Pray for us."
Refugees come to his church by word of mouth or through refugee resettlement agencies like World Relief. Some Telegram channels for new Ukrainian arrivals advise them to find a local church for support. Karpenko's church—which worships in Ukrainian, Russian, and English—tells freshly arrived Ukrainians that they can contact them if they need help, conversation, or friendship.
The US has welcomed about 300,000 Ukrainians since Russia invaded Ukraine. Millions more are refugees in Europe.
Slavic churches are key to helping the hundreds of thousands of new arrivals to the US. Many of these refugees are coming in through a special program (Uniting for Ukraine) that doesn't go through the traditional refugee resettlement agencies, instead assigning arrivals to individual sponsors.
But in some cases, sponsors disappeared when Ukrainians arrived. Churches are trying to provide a steadier foundation for the new arrivals. For Ukrainian Christians already living in the US, it's a helpful way to process the war.
"You can't cry all the time and sit and watch the news 24/7," said Chicago pastor Russ Drumi, …