Experts from around the world explain the consequences of the AI revolution for believers on and off the internet.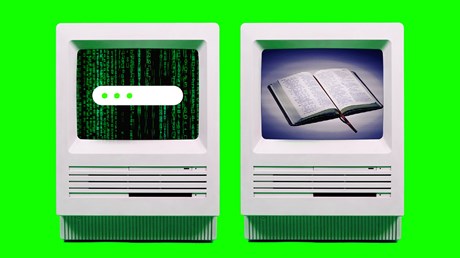 Hundreds of millions of people have used ChatGPT since its arrival last November to plan vacation itineraries, help them code better, create pop-culture sonnet mashups, and learn the finer details of their beliefs.
For years, Christians have Googled their theological questions to find articles written by humans answering questions about God and God's Word. Now, people can take these questions to AI chatbots. How will natural language-processing tools like ChatGPT change how we interpret the Bible?
Eight AI experts from around the world— and Chat GPT itself— weighed in.
Pablo A. Ruz Salmones, CEO, X eleva Group, Mexico City, Mexico
As John 17:17 says, "Sanctify them in the truth; your word is truth" (ESV). Thus, interpreting the Bible is, to a great extent, the search for Truth. Large language models (LLMs) such as ChatGPT don't have, by definition, a source of truth; it's simply not in the model—hence why sometimes they make things up and extrapolate. They are incapable of finding truth, so that even when they do stumble across it, they are unable to recognize it as such.
Thus, when reading an output of an LLM regarding the Bible, we must understand that said output does not come from its search for truth within His Word but rather from a mixed "regurgitation" and extrapolation—a.k.a. algorithms—of what others have said. As a result, ChatGPT cannot offer a new interpretation of the Bible by itself; rather, a person querying ChatGPT may find in the chatbot's answer a new way to interpret the Bible, just as they may find it in an answer offered by a parrot. Because it copies others, the parrot ends up speaking truth, even if it has no idea it has done so. …