The six-year-old CSB translation has recently climbed to the No. 2 spot on monthly bestseller list.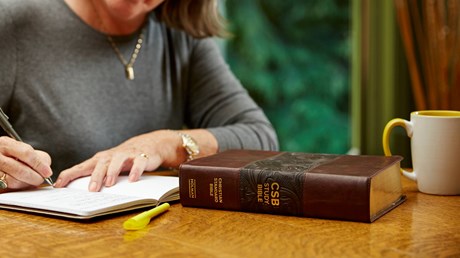 One of the newest major Bible translations on the market may be securing its place among the most popular.
The Christian Standard Bible (CSB) was the second most-sold Bible translation for three out of the past four months, according to data compiled by the Evangelical Christian Publishers Association (ECPA), coming in behind the New International Version (NIV) and ahead of the English Standard Version (ESV).
The CSB came out in 2017, published by Lifeway's B&H Publishing Group as a revision of the Holman Christian Standard Bible (HCSB). It was designed to offer a happy medium between readability and biblical accuracy, a translation philosophy referred to as "optimal equivalence."
"The CSB has that undefinable sense of buzz," said Mark Ward, editor of Bible Study Magazine and a popular Bible YouTuber. "The consensus seems to be that it managed to nail the balance of English readability and word-for-word accuracy that American Christians are looking for."
With more churches switching to the CSB—in some cases, buying Bibles in bulk for their pews—and the release of popular editions such as a Tony Evans Study Bible and an award-winning kids Bible, it's among the fastest-growing translations, climbing from fifth or sixth place on the monthly bestseller lists in prior years to second in May, June, and August of 2023.
It reached 10 percent of the market share within the first five years, and now has reached around 13 percent, said Andy McLean, publisher for Bibles and reference at B&H, which is affiliated with the Southern Baptist Convention.
"We're seeing more churches adopt it, more individuals use it for personal Bible study," …