Four issues on evangelicals' minds as the Republican presidential race moves forward.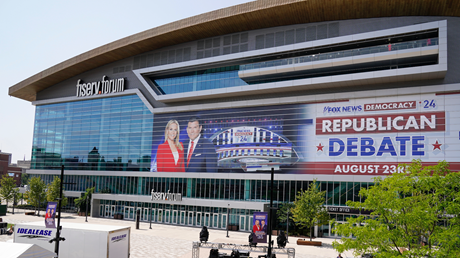 Americans will get their best look yet at the slate of candidates vying for the GOP nomination in 2024 during the first Republican presidential debate and a pre-recorded interview with former president Donald Trump, both airing Wednesday night.
Evangelicals remain a key constituency for the Republican Party and for Trump in particular, who leads in most polls. But the political landscape has changed in significant ways in the four years since the last campaign, so when it comes to the big issues, evangelical voters have some new questions for the Republican field. This is the first presidential election since Roe v. Wade was overturned, since Russia invaded Ukraine, and since Trump's indictments.
Eight GOP contenders will take the stage for the debate in Milwaukee, among them Florida Gov. Ron DeSantis; former vice president Mike Pence; former UN ambassador Nikki Haley and Sen. Tim Scott, both from South Carolina; and Vivek Ramaswamy, an entrepreneur and newcomer to the political scene. (Trump is skipping the debate in favor of a pre-recorded interview with the erstwhile Fox News host Tucker Carlson.)
Here are four things evangelicals will likely be watching for on Wednesday night:
Abortion
The Supreme Court's overturning of Roe v. Wade last year was celebrated as a historic victory for the pro-life cause. But the aftermath has shown that both Republicans and the pro-life community were unprepared for what came next.
The issue of abortion is now in the hands of state governments, and the response has varied. Some, like Florida under the leadership of DeSantis, have enacted strict abortion limits, while others have expanded access to the procedure. In several states, abortion has ended on the ballot, leaving the matter …