According to a recent Barna report, nearly 75 percent of Brazilian teenagers say they want to learn more about Christ.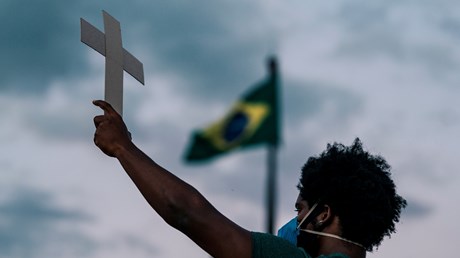 At just 14 years old, Lavínia Fernandes competes with the other young people in her church, located in Recife, Pernambuco, northeast Brazil, to see who can bring the most friends from school to the Saturday services. There are now more than 10 people from her class at school who started attending church through her.
"My friends comment that I became kinder and happier after I became a Christian and that they can see God in my life," said the teenager.
Like Fernandes, millions of other Christian teenagers throughout Brazil and other Latin American countries are experiencing something special in their journeys of faith. Recent research by the Barna Group reveals that Latin America is home to a "connected, digitally enabled generation" that is committed to their faith, engaged with the Bible, and hungry to learn more about Jesus.
Barna surveyed 3,320 young people, ages 13 to 17, from July 21 to August 24, 2021, in Brazil, Honduras, Mexico, and Colombia. Young people in all four countries revealed an enthusiasm and passion for their faith consistently higher than the global average. (Barna polled 26 countries around the world for this survey.) Brazilian teens, in particular, showed an especially heightened awareness of Christ and the Bible.
When asked what they really think about Jesus, 74 percent of Christian Brazilian teenagers said they believe he offers people hope, and 60 percent said Christ makes a real difference in today's world.
Just over half (55%) of Brazilian teenagers, however, believe that Jesus was God in human form.
Brazilian teenagers are more likely to believe in Jesus' miracles and his return.
Barna classifies …