Recent revival has brought Protestant churches more members. But what Mongolian Christian leaders want most is more disciples.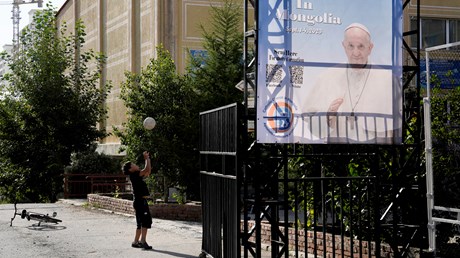 When Mongolia opened up in 1990 after seven decades of Communist rule, the country had only four known Christians.
Heavy religious suppression under the Mongolian People's Republic had all but wiped out Christianity in the country, where the population was then about 2.1 million. But even before that, the faith had failed to secure a lasting foothold among the nomadic people.
Today, while most Mongolians are either Buddhist or nonreligious, the Protestant church has grown to 63,600, making up two percent of the population, according to the World Christian Database. Catholics, on the other hand, have seen more meager growth with a community of less than 1,500 people.
Yet on Thursday, Pope Francis arrived in the capital of Ulaanbaatar—the first time a pontiff has ever stepped foot on Mongolian soil—to visit "a Church that is small in numbers but vivacious in faith." Last year, Francis named Archbishop Giorgio Marengo as the first cardinal based in Mongolia. The country only has two native Mongolian priests.
Mongolia is in a strategic position as it maintains close ties to China, with whom the Vatican has a tense relationship: Recently, the Communist government transferred bishops without consulting the Holy See, violating bilateral accords. To Mongolia's north, the Vatican is walking a delicate tightrope in responding to Russia's invasion of Ukraine. Both countries will be watching his visit closely.
But beyond geopolitics, Mongolians are excited for the historic visit as the Vatican first made contact with leaders of the Mongol Empire in the 13th century, said Bolortuya Damdinjav, head of the research department of Mongolia Evangelical Alliance.
"Finally, 800 years later the pope …