New religion survey of 13,000 adults across six nations examines conversion, karma, and compatibility with national identity.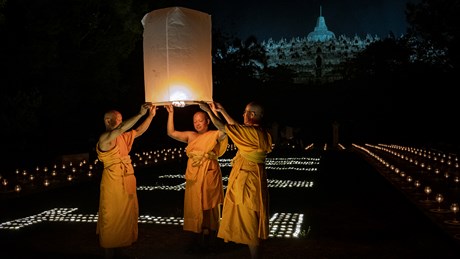 Among its neighbors, Singapore is a spiritual anomaly. Surrounded by deeply religious countries with overwhelming Muslim or Buddhist majorities, the island city-state is by some measures the world's most religiously diverse society, with no faith composing a majority.
Today, 2 out of 3 Singaporeans don't see religion as very important. Yet it has the region's highest rate of conversions—including into Christianity—according to a special Pew Research Center study on religion in South and Southeast Asia released today.
Singapore's lack of a single dominant religion coincides with more "religious switching," Pew's terminology for adults converting to a different religion from the one they were raised in. The percentage of Singaporeans who say they are Buddhists or followers of Chinese traditional religions has dropped, while those claiming to be Christians or religiously unaffiliated have risen.
By contrast, in the five neighboring nations included in the study—Malaysia, Indonesia, Cambodia, Thailand, and Sri Lanka—nearly all adults surveyed said they continue to identify with the religion in which they were raised. And large majorities consider religion very important in their lives.
For Pew's latest international report, "Buddhism, Islam, and Religious Pluralism in South and Southeast Asia," researchers surveyed more than 13,000 adults from June to September 2022. The six countries Pew selected are representative of religion in the region: Three are majority Buddhist (Cambodia, Sri Lanka, and Thailand); two are majority Muslim (Malaysia and Indonesia); and one is religiously diverse (Singapore).
(Researchers explained that though Sri Lanka is typically …