The Biden administration and the global church can do more to help the Chin people in Myanmar.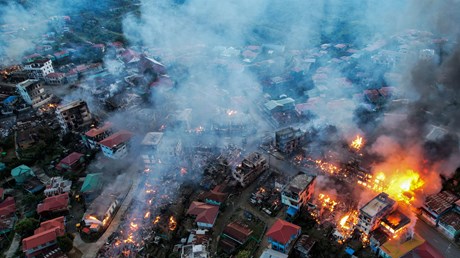 On Monday, we will hold a congressional briefing at the Senate offices about the worsening situation facing Christians in Myanmar, particularly the Chin people. We hope that the US government will determine the attacks on Christians in Myanmar as war crimes and crimes against humanity, and that American Christians will speak out for their brothers and sisters in the country.
Christian ethnic minorities in Myanmar (also known as Burma) have long faced religious persecution and ethnic discrimination due to Buddhist nationalism in the country. This has only worsened after the military overthrew Myanmar's democratically elected government on February 1, 2021. Since then, the military, known as the Tatmadaw, has steadily ramped up violence against its own citizens, firing on unarmed protesters in the streets of Yangon. By the end of 2021, it was waging an all-out war against civilians in the countryside.
Historically, Myanmar's ethnic and religious minorities have been the targets of the most horrific military atrocities. In 2017 and 2018, the Tatmadaw committed a campaign of ethnic cleansing against the Rohingya people that killed thousands and forced 700,000 to flee to Bangladesh. The Biden administration rightly labeled the Tatmadaw's actions as genocide and crimes against humanity.
Today, the Tatmadaw specifically targets Christians from ethnic minorities such as the Chin, Kachin, Karen, and Karenni. The Baptist World Alliance, World Council of Churches, Open Doors, and other Christian leaders have called for action on the military junta's persecution of Christians. It is past time for the Biden administration to ensure accountability, protect Myanmar's persecuted Christians, and provide support …