Even with his new faith coalition and bolder pro-life convictions, few evangelicals are stepping away from the former president and GOP frontrunner.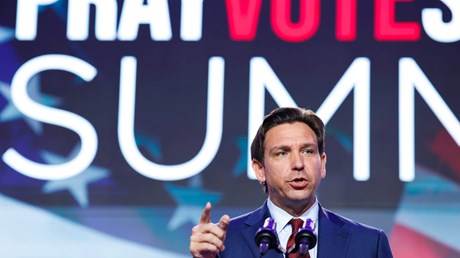 Ron DeSantis is putting his Christian convictions forward as he tries to gain ground with evangelical voters, who continue to favor former president Donald Trump.
"I don't know how you could be a leader without having faith in God," the Florida governor told hundreds gathered for the Family Research Council's Pray Vote Stand Summit on Friday in Washington, DC, repeating one of his favorite Bible lines about putting on "the full armor of God."
"When you stand up for what's right in this day and age, that is not going to be cost-free. … And it's the faith in God that gives you the strength to stand firm against the lies, against the deceit, against the opposition. It gives you the foundation to know that all the insults, all the nonsense they throw at you, ultimately doesn't matter because you are aiming higher."
The summit came one day after DeSantis, who is Catholic, launched his Faith and Family Coalition. The group features endorsements from 70 pastors in the early primary states of Iowa, South Carolina, and New Hampshire. The coalition invites supporters to back DeSantis through "faith and prayer."
Trump still leads the GOP race by a wide margin—a straw poll of over 500 in attendance at the DC summit had the former president over DeSantis, 64 percent to 27 percent—but a slice of evangelical voters are being swayed by what they see as stronger character and tougher stances on pro-life issues from other candidates.
"Former president Trump, despite all the merits and many good things he did, is relatively weak in comparison to other candidates, and especially governor DeSantis, on these issues, which are core issues for social …