Christian aid organization says it is not and defends former director sentenced to prison in Israel.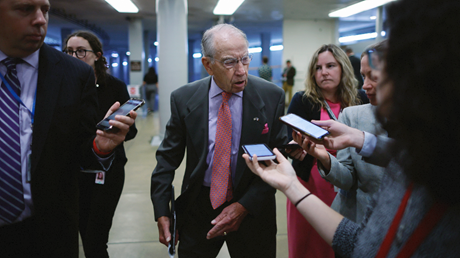 Senator Chuck Grassley is concerned that World Vision International may have funded terrorism with US taxpayers' money.
The long-serving legislator from Iowa sent the Christian humanitarian aid organization a letter last month asking for answers to a number of questions about funding, current programs, and accountability. World Vision received $491 million from US Agency for International Development (USAID) in 2022.
"Congress and the American people deserve transparency with respect to the steps World Vision has taken to ensure taxpayer money is used as intended and not for illegal activity," Grassley wrote. "Please provide answers."
The humanitarian organization told CT that it sent a reply to Grassley on September 9. On the larger point, the group is unequivocal: "World Vision does not support any form of terrorism."
The senator's inquiry comes a year after a World Vision employee was sentenced to 12 years in prison in Israel. According to prosecutors, the former director of aid to Gaza diverted $50 million meant for hungry children and farmers to Hamas, which the US State Department has designated a terrorist organization. Little of the evidence used to convict Mohammed el-Halabi was made available to the public, beyond a confession that Halabi's lawyers say was coerced. Four United Nations experts raised concerns about what they called "egregious" violations of Halabi's right to a fair trial.
World Vision continues to defend the former Gaza aid director. The organization says his conviction was unjust and the Israeli court's ruling is "in sharp contrast to the evidence and facts of the case."
In 2016, the humanitarian aid organization …