The fallout of the Israel-Hamas war at US universities, including antisemitic attacks, are roiling the Ivy Leagues especially.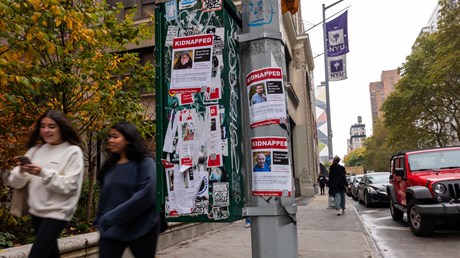 Across the country, college campus tensions over the Israel-Hamas war are high, and students connected to the war's fallout—especially Jewish students facing more threats on campus now—report struggling with sadness, fear, and anger. Campus ministry leaders say they are trying to find small ways to be friends to those students who are suffering or afraid.
Like at many Ivy League schools in recent weeks, the Jewish group Hillel at the University of Pennsylvania has upped security. It now has an armed guard inside and outside, and a police squad car sits in front of the building, according to one of Hillel's leaders.
Penn Hillel was already on edge before the October 7 terror attacks in Israel. In late September, a rabbi was arriving for morning services at Hillel's building before security had arrived, and an individual pushed in and began throwing chairs and overturning trash cans and yelling antisemitic slurs, according to officials.
Since the attacks in Israel, Jewish students have had "troublesome things" shouted at them, Rachel Saifer Goldman, the director of operations for Penn Hillel, told CT. She said people have ripped down flyers for the Israeli hostages on campus, and there have been instances of antisemitic graffiti. Penn has a relatively large Jewish population, making up about 16 percent of its students.
Corey Lotspeich, a campus minister with Christian Union at Penn, reached out to Hillel after the October 7 attacks and offered condolences. He and Saifer Goldman talked, and she invited him to bring his students over for a dinner on a Thursday evening.
"Just to be with our students and hang out," Saifer Goldman said. "We're incredibly grateful. … …