Lasting damage was inflicted not by restrictions imposed from outside the church but by politicized conflicts inside each congregation.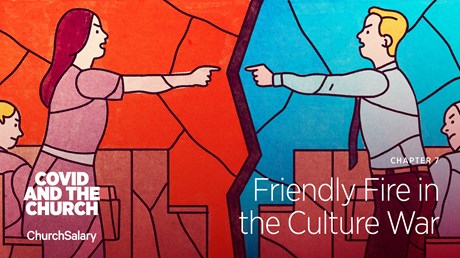 Pastors frequently cited COVID-19 as a source of political polarizing and ideological conflict in focus groups, interviews, and survey comments. A pastor in Jackson, Mississippi reflected, "We couldn't please anybody. You had this binary thinking about everything that was happening."
A second pastor shared,
Over the past 24 months, the most challenging aspect has been the emotional toll that COVID has brought onto the church staff. Between being both wrong and right with every decision made, and the stress that comes with always feeling that you have to defend your decision to a group of congregants, the stress can become unbearable.
Before COVID-19, the battle lines between politics, faith, and community in many American churches were already overlapping. During the pandemic, they seemed to disappear entirely.
As you listen to this week's discussion, please understand that our desire is simply to shine a light on what actually happened—the lived experiences of countless pastors and congregations across America. Our sole aim is to facilitate reconciliation, healing, unity and the proclamation of the Gospel, and our prayer for the American Church is the same as Jesus in John 17:20–21:
"I ask not only on behalf of these but also on behalf of those who believe in me through their word, that they may all be one. … so that the world may believe that you have sent me."
Based on chapter 7 of the report, in this episode host Aaron Hill (editor of ChurchSalary) sits down with two researchers from the Arbor Research Group, Jesse Brown and Tyler Greenway, to talk about the negative effects of polarization on pastors and congregations. This episode also features interviews with several pastors …