Taylor Swift's "transcendent" stadium tour got Christians once again talking about whether secular stages point us to God's common grace or just another idol.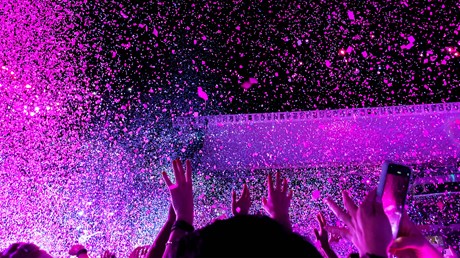 "Take us to church, Taylor!" was one of the many call-and-response rituals between Taylor Swift and the millions of fans who flocked to stadiums during the spring and summer of 2023 to gather around the music and persona of Taylor Swift.
It's not the first time fans have gathered around the work of a legendary musician and referred to it as "church."
A service at the Church of Beethoven, for example, is "not quite a concert, not quite a church." Attendees, who find meaning in the spiritual but not religious dimension of music, gather for performances/services where "the music is the worship, the homily and the anchor of the community of believers."
An abundance of recent essays and articles describe the experiences fans have had at Swift's concert stops on the Eras tour. They reflect on intense communality, Swift's ability to speak to particular experiences of girlhood or coming of age, and, yes, the spiritual parallels and affinities in the music and the performance.
Swift's music and showmanship are, arguably, the "worship, the homily, and the anchor" for temporary communities of over 50,000 people, singing and moving along at her massively popular stadium shows. Is the Eras tour a traveling "Church of Taylor Swift"? Many of her Christian fans insist that's not the case.
The Eras tour discourse is just the latest battleground for Christians to debate about the distinction between art appreciation and syncretism or idolatry. When is music or a musician an idol? Should Christians be more reticent to ascribe spiritual meaning to an experience at a stadium concert than to one at a performance of a Beethoven symphony, an exhibit …