Q&A with Misti Allison, who entered local politics because she saw her East Palestine community struggling.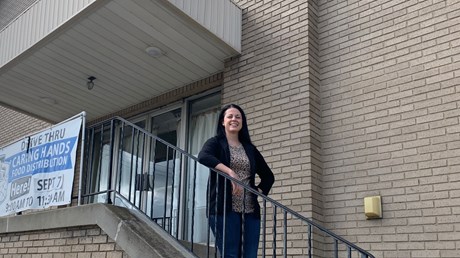 Election Day is on Tuesday for many local races, if not national ones, and one town of about 5,000 in northeast Ohio will be electing a mayor. In February, East Palestine was the site of a fiery train derailment of cars that sent hazardous materials into the air, dirt, and water of the town. The disaster brought the small town into the national spotlight, and the cleanup of the town is ongoing .
The current mayor, Trent Conaway, has been the face of the town's response to national media and ran unopposed in the last election. On Tuesday he will be facing off with Misti Allison, a 35-year-old Christian who works in software marketing and is a wife and mom of two. She already serves on East Palestine's library board and on the community advisory board for a scientific study in the aftermath of the explosion. Earlier this year, Allison testified in Congress about the shortcomings of the derailment response.
Allison and her family attend First Church of Christ in East Palestine, the largest church in town and the only one with a full-time pastor. The church has been a staging ground for some of the derailment relief efforts, providing heavy duty air purifiers to the town's residents as well as free legal clinics. CT spoke with Allison at her church back in September when signs were first appearing in yards for her mayoral run.
You and your family decided to stay in East Palestine after the derailment despite the unknowns about the air, water, and everything else?
Home is home, and we have so many roots here. We love East Palestine. We love our house. We love our family being here. We love the neighborly feel. We love our church. My husband coaches youth sports.
How are you feeling about the different reports about …